Fenomena Lokal "Mata Dwiwarna" di Tinambung Polewali Mandar
Firdaus Firdaus

Universitas Sulawesi Barat

Mufti Hatur Rahmah

Universitas Sulawesi Barat

Masyitha Wahid

Universitas Sulawesi Barat
Keywords:
Fenomena Lokal, Heterochromia Iridis, Mata Dwiwarna, Waardenburg Syndrome
Abstract
Fenomena "mata dwiwarna" atau yang dikenal dengan istilah Heterochromia Iridis merupakan kelainan genetik berupa adanya dua warna pada iris mata suatu individu. Heterochromia Iridis termasuk fenomena langka dengan prevalensi 6:1.000 di dunia. Penelitian ini merupakan deskriptif kualitatif dengan desain penelitian studi kasus untuk mengungkap: (1) karakteristik mata dwiwarna di Tinambung Polewali Mandar dan (2) fenotip penyerta mata dwiwarna di Tinambung Polewali Mandar. Pengumpulan data dilakukan melalui observasi dan wawancara. Hasil penelitian mengungkap dua kasus mata dwiwarna (Heterochromia Iridis) di Tinambung Polewali Mandar. Kasus I memiliki mata kanan yang berwarna biru terang dan mata kiri berwarna cokelat tua, termasuk ke dalam tipe Complete Heterochromia. Kasus II memiliki mata yang bagian tengahnya berwarna cokelat dan bagian tepinya berwarna biru, termasuk ke dalam tipe Central Heterochromia. Fenotip penyerta yang ditemukan yaitu alis mata bersambung, pangkal hidung lebar, ujung hidung yang rata, bercak putih pada kulit, gangguan pendengaran, dan rambut putih di usia muda. Fenotip penyerta tersebut menunjukkan bahwa fenomena mata dwiwarna di Tinambung Polewali Mandar terasosiasi dengan Waardenburg Syndrome. Hasil penelitian ini dapat dijadikan dasar dalam penanganan fenomena lokal "mata dwiwarna" dan sebagai bahan dalam pembuatan media ajar kontekstual.
Downloads
Download data is not yet available.
References
Andrew A. Dahl. (2020, July 21). Heterochromia Iridis. https://www.medicinenet.com/heterochromia_iridis/article.htm
Brookhouser, P. E. (1996). Sensorineural Hearing Loss In Children. Pediatric Otolaryngology, 43(6), 1195–1216.
Díez, C. M., Prado, S. R., & Llaca, J. H. F. (2015). Segmental Pigmentation Disorder with Congenital Heterochromia Iridis. Open Journal of Pediatrics, 05(03), 213–217. https://doi.org/10.4236/ojped.2015.53032
Genetic and Rare Disease Information Center. (2015, April 8). Heterochromia iridis. https://rarediseases.info.nih.gov/diseases/8590/heterochromia-iridis
Gladstone, R. M. (1969). Development and Significance of Heterochromia of the Iris. Arch Neurol, 21, 184–192. http://archneur.jamanetwork.com/
Lestari, A. Y., & Prastyani, R. (2020). Case Report Waardenburg Syndrome Type I With Iris And Retinal Coloboma. Jurnal SainHealth, 4(1), 8–10.
Mackey, D. A., Wilkinson, C. H., Kearns, L. S., & Hewitt, A. W. (2011). Classification of iris colour: Review and refinement of a classification schema. Clinical and Experimental Ophthalmology, 39(5), 462–471. https://doi.org/10.1111/j.1442-9071.2010.02487.x
Matthew B. Miles & A. Michael Huberman. (1994). Qualitative Data Analysis: An Expanded Sourcebook. SAGE Publications.
Muiños Díaz, Y., Saornil, M. A., Almaraz, A., Muñoz-Moreno, M. F., García, C., & Sanz, R. (2009). Iris color: validation of a new classification and distribution in a Spanish population-based sample. European Journal of Ophthalmology, 19(4), 686–689.
Tomar, M., Dhiman, R., Sharma, G., & Yadav, N. (2018). Artistic iris: A case of congenital sectoral heterochromia iridis. Journal of Ophthalmic and Vision Research, 13(3), 359–360. https://doi.org/10.4103/jovr.jovr_91_17
Wisudawan Finisia, F., Lasminingrum, L., & Suseno, B. (2016). Gejala Klinis Sindroma Waardenburg Laporan Kasus. JSK, 2(2), 103–109.
Zizlavsky, S., Putri, S. T., & Suwento, R. (2017). Gangguan pendengaran pada sindrom Waardenburg. ORLI, 47(2), 171–178.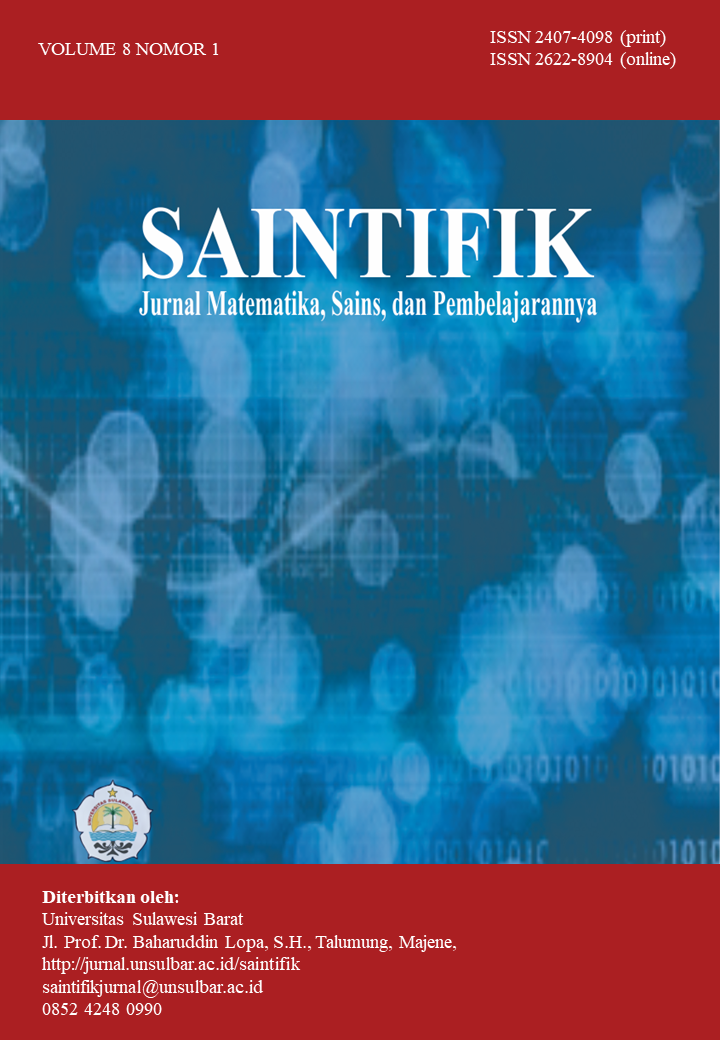 How to Cite
Firdaus, F., Hatur Rahmah, M., & Wahid, M. (2022). Fenomena Lokal "Mata Dwiwarna" di Tinambung Polewali Mandar. SAINTIFIK, 8(1), 58-62. https://doi.org/10.31605/saintifik.v8i1.343
Copyright (c) 2022 Firdaus, Mufti Hatur Rahmah
This work is licensed under a Creative Commons Attribution 4.0 International License.
Free access for all users worldwide
Authors retain copyright to their work
Increased visibility and readership
Rapid publication
No spatial constraints