Sintesis Karbon Nanopori Bebas Silika dari Ampas Tebu (Saccharum officianarum) melalui Iradiasi Ultrasonik
Alfiah Alif

Universitas Sembilanbelas November Kolaka

Azhar Aras Mubarak

Universitas Sembilanbesal November Kolaka
Keywords:
Karbon Nanopori, Ampas Tebu, Karbon Bebas Silika, Iradiasi Ultrasonik
Abstract
Telah dilakukan penelitian tentang sintesis karbon nanopori bebas silika dari ampas tebu (Saccharum officianarum) melalui iradiasi ultrasonik. Penelitian ini bertujuan untuk mengetahui hasil karakterisasi dari sintesis karbon nanopori bebas silika. Sintesis karbon nanopori dari bahan ampas tebu, melewati 3 tahapan proses yaitu, preparasi, karbonisasi, dan ekstaksi silika dengan NaOH 5 M. Karakterisasi dilakukan dengan dan tanpa perlakuan iradiasi ultrasonik. Hasil karakterisasi melalui FTIR menunjukkan terjadi peningkatan intensitas yang tajam berupa vibrasi rentangan C=C dari gugus aromatik pada bilangan gelombang 1606,70 cm-1, dan vibrasi rentangan C=O pada bilangan gelombang 1714,702 cm-1. Hasil SEM menunjukkan morfologi karbon yang diiradiasi memberikan struktur pori yang lebih kecil, banyak, dan terdistribusi secara merata, sedangkan metode pengujian EDS menunjukkan komposisi unsur terbanyak adalah karbon 68.8%. Hasil analisis luas permukaan melalui metode metilen biru dalam kondisi optimum iradiasi gelombang ultrasonik pada suhu 30 oC selama 15 menit yaitu 185,0073 m2/g. Karbon nanopori bebas silika dengan perlakuan iradiasi ultrasonik memberikan hasil yang baik dibandingkan tanpa iradiasi ultrasonik
Downloads
Download data is not yet available.
References
Agustin, 2013, Ektraksi dan Penentuan Kadar Silika dari Abu Terbang Batu Bara, Skripsi, Jurusan Kimia, Universitas Jember, Depok.
Badan Litbang Pertanian, 2006. Arang Aktif Meningkatkan Kualitas Lingkungan, Agroinovasi, Edisi 6-12 April 2011 page 10-12, Penerbit Swadaya, Jakarta.
Habibah M. D., Nurdiana, H., Rohmawati, L. 2014. Sintesis Karbon Nanopori dari Tempurung Kluwak. Prosiding Seminar Pendidikan Fisika dan Fisika. 5(1). 30-33
Rosi M., Khairurruijal, Iskandar F. 2013. Sintesis Nanopori Karbon dengan Variasi Jumlah NaOH dan Aplikasinya sebagai Superkapasitor. Conference Seminar Nasional Material. 74-77
Sembiring dan Meilita R., 2003, Arang Aktif (Pengenalan dan Proses Pembuatannya), USU Digital Library, Medan.
Suslick, K. S., Dedinko, Y., Fang. M. M., Hyeon. T., Kolbeck, K. J., Mc Namara III W. B., Mdleleni, M. M., dan Wong, M., 1996, Nanostructured Materials Generated by High-Intensity Ultrasound: Sonochemical Synthesis and Catalytic Studies, 8, 2127-2179.
Wei, X., Xiao, Li., Jin Zhou, dan Ping, Z. S., 2011, Nanoporous Carbon Derived from Risk Husk for Electrochemical Capacitor Application, Advanced Materials Research, 239-242, www.scientific.net
Winter, M., dan Brodd, R.J., 2004., What are batteries, fuel cells, and supercapacitors?, Chem. Rev., (104), 4245-4269.
Yang, J., Liu, J., Chen, X., Hu, Z., dan Zhao, G., 2008, Carbone Electrode Material with High Densities of Energi and Power, Acta Physica-Chimica Sinica, 24 (13-19).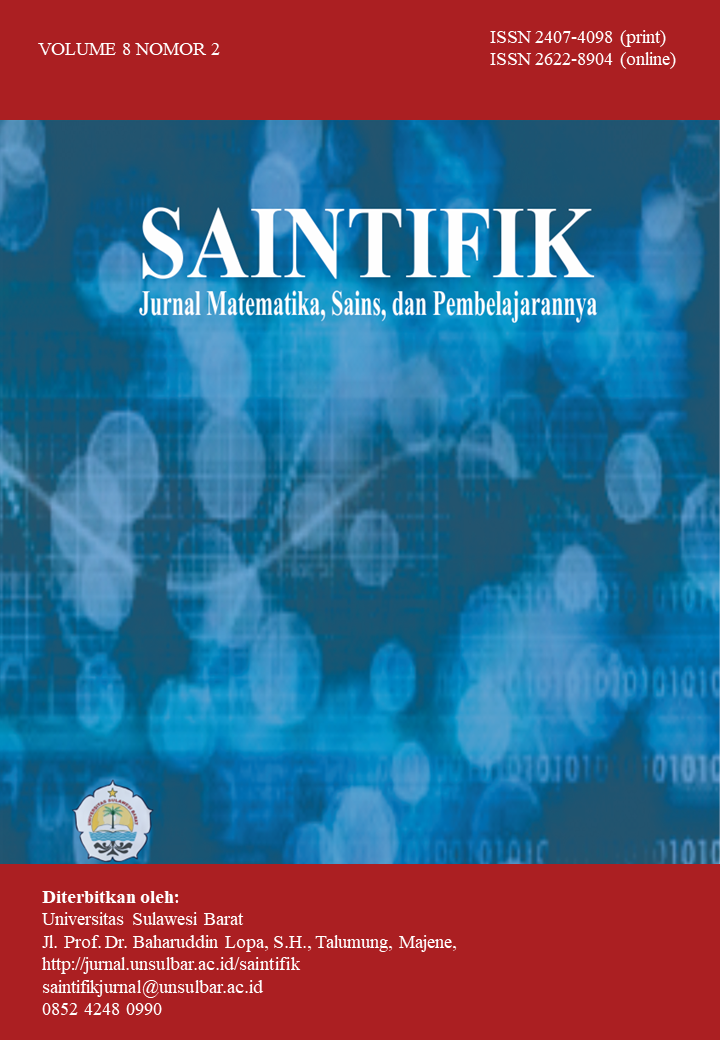 How to Cite
Alif, A., & Mubarak, A. A. (2022). Sintesis Karbon Nanopori Bebas Silika dari Ampas Tebu (Saccharum officianarum) melalui Iradiasi Ultrasonik . SAINTIFIK, 8(2), 159 - 167. https://doi.org/10.31605/saintifik.v8i2.366
Copyright (c) 2022 Alfiah Alif, Azhar Aras Mubarak
This work is licensed under a Creative Commons Attribution 4.0 International License.
Free access for all users worldwide
Authors retain copyright to their work
Increased visibility and readership
Rapid publication
No spatial constraints